Drive Through Food Pantry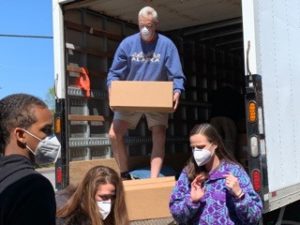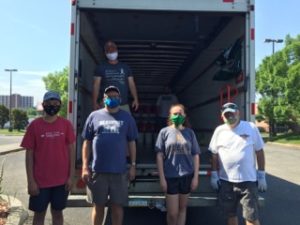 With the help of Second Harvest, generous gifts and volunteers from the church, we will distribute emergency food boxes on Wednesdays at 5PM through a drive-thru food pantry. All volunteers need to wear a mask and gloves. People picking up food boxes will not be permitted to exit their cars. Boxes will be loaded into the the trunks of cars.
CHRISTMAS PIE MINISTRY
Help distribute pies through our Drive-Thru Food Pantry and to our JustLead families on Wednesday, 12/23. If you'd like to contribute, you can make a donation ($10 per pie) marked "Outreach" or you can purchase a fresh pie to bring to church on Monday, 12/21, from 11 a.m – 1 p.m. You can also arrange for Donna to pick up your pie by calling or emailing her (548-2343 or mckinneydonna@comcast.net).
OTHER WAYS YOU CAN HELP
Make and donating masks for volunteers to wear.
Give to the Food Pantry fund (beyond giving to the budget) if you are able. We understand many are struggling financially and want to give but cannot. It costs $15 per food box. Each box will help feed a family for a couple of days.
Help unload and distribute boxes.
Share the news about this ministry in the community
Pray for the Food Pantry ministry
Please contact Pastor Charla if you can help (806-3337 or charlasherbakoff@gmail.com).
Below is a Link to the WVLT News Report on this Ministry
https://www.wvlt.tv/content/news/Knoxville-church-provides-groceries-to-families-weekly–571007381.html