Drive Through Food Pantry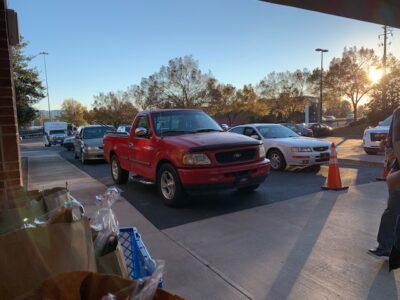 With the help of Second Harvest, generous gifts and volunteers from the church, we will distribute groceries on Wednesdays at 5PM through a drive-thru food pantry. 
Your generous support of the Drive Thru Food Pantry enables Second UMC to distribute food bags to approximately 50 families each Wednesday at 5PM. The monthly cost of this ministry is about $2,000.
Ways you can help –
– Give to the Food Pantry fund.
– Volunteer to distribute food each week or unload deliveries from Second Harvest Food Bank monthly.
– Pray for the Food Pantry ministry.
– Share the news about this ministry.
– Please contact the office (865-524-1689 or 2umc@comcast.net) if you would like to help.
Special thanks to Panera Bread for their monthly donation of breads and sweets!
Below is a Link to the WVLT News Report on this Ministry
https://www.wvlt.tv/content/news/Knoxville-church-provides-groceries-to-families-weekly–571007381.html